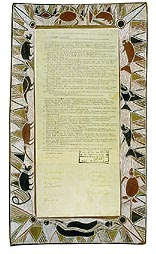 This image is of the 'bark petition' of 1963.
'Yolngu people from Yirrkala in eastern Arnhem Land in the Northern Territory sent the petitions to the Commonwealth Parliament in August 1963. On 13 March that year the Government had removed more than 300 square kilometres of land from the Arnhem Land reserve so bauxite found there could be mined. Work started without talking to the people about their land. Yolngu leaders made plain their objection to the lack of consultation and secrecy of the Government's agreement with Nabalco, and their concern about the impact of mining on the land unless their voices were heard.'
foundingdocs.gov.au
The petition was unable to stop this......
The mine, although in partial shutdown, remains a dominant feature of the area, both with its visual scarring and the auditory reminders. The conveyor belt which delivers the raw bauxite to the processing plant over many miles, emits a sound not unlike an air raid siren every time it breaks down, which is often. The belt 'operates' 24/7.
We continue to spend as much time as possible going bush! We made another trip to Darwin during March, staying in a fabulous dog friendly house for a week. Beautiful gardens with an outside spa and air-conditioning! We all did a happy dance. Ruby loved the independence of her own garden, although she was a little frightened of the wildlife.
The track was very different to our last trip across, although it has been a very dry wet season there was a fair bit of water around. Water brings animals. What is it with them? It felt like they would wait for a vehicle to approach before they would cross the track. Horses, buffalo, donkeys, lizards, frogs, wallabies,birds, cows and an emu! A group of cows and their calves waited for our approach, commenced their crossing stopping in the middle of the track to reconsider their plan. They looked at us wide-eyed while we sat looking at them-then one cow made the decision to RUN the way they came! Off they went bounding into the bush, I guess to wait for the approach of the next vehicle.
We didn't feel comfortable camping this time either so stayed in Katherine both ways. We had brief pit stops along the way, to take photos, stretch our legs or to just gaze in wonder at the bush. During one stop, I was having a pee only to look up into the eyes of a curious buffalo cow- that became the quickest pee in history! Lucky for me it was a cow, the bulls can be threatening and dangerous- a few pawed the ground as we passed.
a much lusher track
Flying Fox Creek- our last camping spot

Marg continues to work full time and along with her job she gets invites to Yolgnu ceremonies. Lucky gal. We have both taken a Yolgnu language class- it is a very difficult language, Marg's language skills are coming along as she needs to speak to many Yolgnu at work.
Marg in her yappa outfit at a homelands ceremony
The areas beaches remain a favourite excursion for us all....
set up at Ngumuy
spot Ruby
Yirrkala Beach
Shady Beach
Checking for croc tracks before we set foot on any beach is now second nature to us. As is one person keeping watch while the other/s swim. Who cares about stingers when there are crocs about!
We are still loving the area, it is a tight knit community due to being remote. A lot of communication happens via a facebook noticeboard- what's on, who's moving on and some amusing stuff.....
'
my cat doesn't like this pup (insert photo) sitting on her verandah, if you're her human can you come and pick her up before the cat goes berserk'.
People post photos of their kid '
if this boy is at your dinner table can you tell him to go home NOW'.
It is a funny community.
Despite the sad message of the need of 'stop violence against women' protest marches, this years march along the main street was a joyous affair, dogs, kids, Yolgnu and whitefellas. Good stuff. Ruby, god love her, got very amorous with Max the adolescent dingo who totally ignored her. She was appeased by the sausage sizzle!
where's Max?
Who cares, not Ruby anymore




Ruby turned 16

in April, our beloved girl is fading but happy.